Our cheerfully hopping daughter wanted so badly to see the movie Minions that had just come out. So on a dull Sunday afternoon, we drove our family to the cinema. 3D was special something new, with those special things on it. We landed on the red plush with a large bowl of salty popcorn and three bottles of super-sweet fizzy lemonade. The lights went out and the movie began.
For those who have never seen the film, here's a summary:
The story of the minions begins millions of years ago. A minion was at first little more than a celled yellow organism, but over the years they evolved into sidekicks for the most horrific villains. From a tyrannosaurus rex to Napoleon. Unfortunately, they weren't that successful in performing their duties and so they ended up unemployed. But then one minion named Kevin gets an idea. Together with the rebellious Stuart and the lovely Bob, he goes in search of a new villain. The first friends find themselves in a thrilling adventure that leads them to another new master: Scarlet Overkill, the world's first female super-villain. Kevin, Stuart, and Bob travel from frigid Antarctica to New York City in the 1960s and finally to London, where they face their greatest challenge: to rescue all minions.
Soon we were grinning unsuspectingly in our seats, along with all the other loving parents and their offspring. I hadn't immersed myself in the film for a moment, let alone worried about it. After all, it is a children's film assessed by *Kijkwijzer with an age recommendation from 6 years.
*The Kijkwijzer is originally a Dutch tool that can be used to determine whether watching a film, television program or computer game is potentially harmful to children.
It was a cheerful event and we were more and more exuberant with laughter. Until the minions arrived in London. Suddenly the laughter died out between us. The now very scary Mrs. Overkill aimed her advanced laser gun at the many minions in this town. Our daughter, then about 8 years old, didn't like it at all anymore. Big tears appeared in her big frightened eyes and they quickly streamed down her cheeks. It should have been a big alarm for me, but soothing and condoning that it's all not real, I tried to comfort her. Yet something gnawed on me.
What do Minions actually mean? I asked myself.
The definition of a minion is 'one who is not powerful or important and who obeys the orders of a powerful leader or boss'. Synonyms include henchmen, follower, servant, stooge, and a follower.
I'm sure you've thought about that: little toddling creatures that don't roam through life too snobbishly and look for a new bad leader. Is Disney warning? I thought naively at first.
The shrapnel fell further from my eyes and I went to investigate. Wondering if I'm the only one in this who might be looking too much into it, the only paranoid mother on the planet.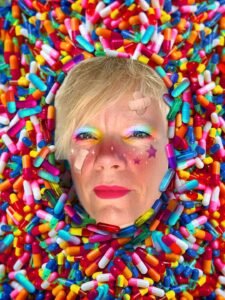 Zo zie ik ineens in dat de gele figuurtjes een pilvorm hebben. Je herkent ze vast wel, die medicijncapsules waar onze apotheken, badkamers en medicijnkastjes mee vol liggen. Van die geel-blauwe capsules, die je overigens in nog veel meer kleuren kunt krijgen, maar dat terzijde. In één keer dringt het tot me door: die minions, dat zijn wij! De mensheid die niets anders doet dan achter slechte leiders aan hobbelen.
I suddenly see that the yellow figures have a pill shape. You probably recognize them, those medicine capsules that fill our pharmacies, bathrooms, and medicine cabinets. Those yellow-blue capsules, which you can get in many more colors, by the way, but that aside. At once it dawns on me: those minions, that's us! The humanity that does nothing but hobble after bad leaders.
Dear people, I have made a terrible mistake. At that time I did not recognize or acknowledge what my daughter intuitively indicated: that something is scary and not right. I should have confirmed her discernment, immediately got up and left the cinema with her. To set her an example that we should listen to our intuition because it is there to warn us.
Are these kinds of movies there to desensitize us? It requires great discernment. Even for me as an adult, it is not always easy to recognize when someone or something is sending a message with a double agenda. The biggest problem is that most of us have even become desensitized to it.
Pictures: Jose Meboer, creator of the awareness